I am half Hispanic. I am not a fluent Spanish speaker and I do not claim to be a dedicated follower of my culture. I cannot trace my family tree back for centuries but I can be sure to take the ancestry that I know and pass it on to my children.

We have started to celebrate Dia de los Muertos. You can learn more about it here.

Last year we made our version of sugar skulls on paper plates and we spent the evening talking about our loved ones that had passed on. It was a great night! This year we decided to make an ornament with a photo of an ancestor that has passed on and decorate it in their honor. It was a lot of fun but the best part was when we started to talk about our loved ones the kids remembered some of the stories from last year! I am so happy we are celebrating this holiday! I STRONGLY encourage you look in to your own heritage and see if there is an aspect of your culture that you can use to create a new family tradition!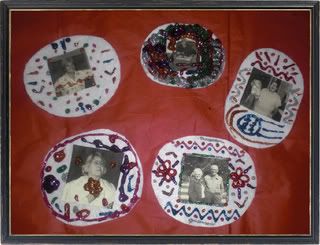 These are the ornaments we made with felt and glitter glue.


This is a picture of my great grandparents. My Great Grandma made fantastic jam and my Great Grandpa Floyd used to go on very long walks and find "treasures".

This is my Grandpa Bill. He always told me I was beautiful and that I was "growing like a weed"

This is my Uncle Bill. He passed away at a very young age from MS. He was always the "fun uncle" - he gave airplane rides and always got us all wound up!

This is my Nanita and whom Olyvia got her middle name from. She was tough but loving and a huge influence in my life. She made handmade tortillas and the best tamales in the whole world!

This is my Grandpa Ro. He owned a Tavern and when we went to clean it with him he always pretended to find a bunch of quarters so we could play the video games. He had false teeth and loved to show us how he could take them out. He loved the song De Colores.