As I mentioned on Monday this was our first Labor Day weekend that we were able to enjoy as a family. We had a lot of fun and spent a lot of time relaxing, it was a perfect blend and everything we strive for in a weekend.
Friday night we went down the street to our neighborhood block party...well, most of us! Bryan was finally home for a block party night but he was hosting the draft for his fantasy football league. So he stayed home while the kids and I had a good time relaxing and chatting with friends and neighbors! We came home and I put the kids to bed. While Bryan and the guys drafted I watched the movie 17 Again - great movie! I sat on the couch in my pajamas, ate ice cream and popcorn, and completely vegged - it was bliss!
Saturday morning we went to farmer's market. This is one of our favorite family activities! I wish I had taken pictures of the vendors and everything we bought but I forgot I had my camera until we were almost done! However, I did get one of the best parts on film or whatever you call it now....
We always get a little snack - french toast, muffins, caprese pockets, breakfast burritos, tri-tip sandwiches, fruit tarts, granola bars, mini buns... OH MY! This could go on for days, and now I am hungry....I digress. Sorry. Where was I? Oh, eating. That is where my mind usually is! ANYWAY! We take our wonderful snack and eat it on the steps of the adjacent church and then the kids jump off of the steps. Then Bryan tells them to go higher and jump further. Then he tells them to do it again. Did I mention these are concrete steps? No? I think I just try to block that part out.
Here is my little Layla on the steps in her finery...she does not leave the house most days unless she is dressed in some version of this outfit - fabulous!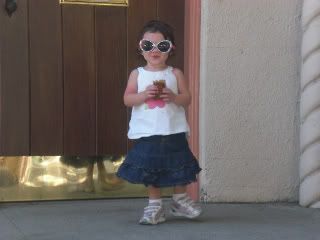 Here is Ysabelle considering "The Jump" and also the part I must intervene
And here is a picture where I have forced my children to be still for one moment (pure torture) so I can take a picture before they all knock their teeth out on the concrete steps they have been encouraged to jump from...
It was a good morning, one of many, and I hope my kids will look back on it fondly!
Sunday we went to church and then Wesley left for the day to the State Fair with my parents and his friend. I did not go so I have no pictures. All I do know is that he rode everything, ate everything and came home with a fish named Bob. Good times! The rest of us lazed around a bit and then we went to L.A. Cultures for some awesome frozen yogurt!
Monday we did something very "Griswald". We went bowling as a family. It was Labor Day weekend and we went bowling...our family and about a zillion others! It was very crowded but we eventually got a lane. Bryan and I used to go to Rock N' Bowl when we were dating. We were good bowlers. That was then, this is now. We are no longer good bowlers. And as far as I can remember it never hurt before...it does now... a lot! Again, I digress. The kids had fun. We ate nachos and pizza (that also hurts to do now!) and we bowled our hearts out! Here is a montage of our bowling fun!