The twins are obsessed with all things Sesame Street. You may think I am joking but I am really not over shooting this one. They have Elmo shoes, Sesame Street clothing, all of the little stuffed characters, Elmo phones and of course they watch the show! So, we have decided to have a Sesame Street party for their birthday. I will be taking loads of pictures but I thought I would give you a sneak peek! I am making their invitations and I think they turned out pretty cute! Here is the low down on how I made them if you are interested....
First you will need a few supplies..
- 5 x 7 sheets of construction paper, 1 per invite
- a black permanent marker
- double stick tape
- big googly eyes
- decorative stickers
- a 4x6 index card with the party info printed on one side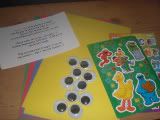 Next you will need to lay the eyes on the paper in the place that you want them BUT do not glue them on yet. Then draw the face of whichever character you are doing first. I started with Big Bird, he seemed easy enough.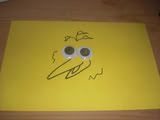 Then you need to remove the googly eyes for the time being.... it looks kinda funky!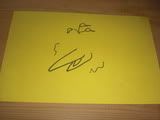 Now you can apply the double stick tape to the back of the information card.I used my scrapbooking tapey thing (yes, I am pretty sure that is what it is actually called!)but any old double stick tape will do.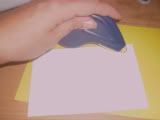 and apply it to the non decorated side of the construction paper
Next you can decorate around the index card. I used some Sesame Street stickers that I found at a party store and a dollar store.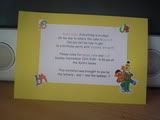 Next flip it over and apply the googly eyes back in to place. And then you can move on to the next one! Get creative and have some fun! Here are a few of my finished products....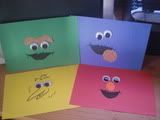 I had a lot of fun making these! I will be making games for the party as well....that will be coming soon!