YO JOE!!!!
Today was Wesley's birthday party and it was a total blast! It wasn't a typical "Kyte" birthday party but it was exactly what he wanted! It was very relaxed and filled with a lot of unstructured play - just Wesley's style!
It was a G.I. Joe party. I am not sure why, we have not seen the movie or watched the cartoon but that is what he wanted so that is what we did.
As the kids arrived we ate dinner...submarine sandwiches, Dorritos, and blue Gatorade - all Wesley's choice. When they were finished we applied temporary tattoos, camouflage paint, and made up code names for their dog tags.
Then we played grenade toss. The kids partnered up and stood 2 feet apart and tossed the grenade (water balloons). Did anyone play this as a kid??? The kids only made it to 3 tosses before the balloons popped! I expected the game to last about 15 minutes. So, we played again to see if we could last a little longer...no such luck!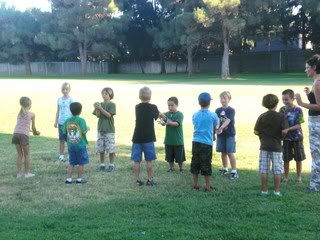 They had fun and that is all that matters! Wesley and his friend Conner were the winners. I know the "birthday boy" is not supposed to win but what are you going to do????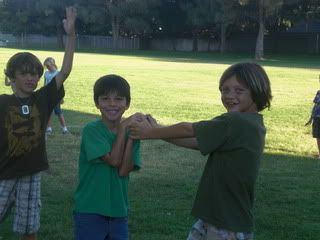 I say, Let 'em win!
Then we handed each kid a grenade and let them run wild. They had so much fun!
After they were done running around it was time for basic training. They all lined up and did a short run, 10 jumping jacks, ran to the slide, climbed the ladder and raced back to me for the big finish! They were all giggling and screaming, it was so great to see the pure joy on their faces!
After the training was over it was time for war games. Each child was handed a loaded squirt gun and basically it was every man (or girl) for himself. The ran, and squirted, and reloaded several times over. I was squirted several times - why is it so funny to squirt the mom??? I am not sure but apparently it is a riot!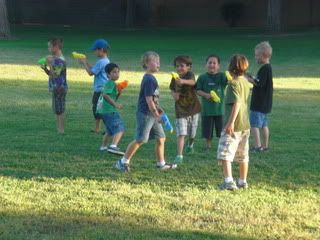 With the games all but over we decided to open presents. We were at the park so we used the picnic tables. I had Wesley sit on top of the table and the kids sat on the bench and it worked very well, he was barely mobbed and I think he liked having the kids all around him. He received some very cool gifts and was very appreciative of everything he was given - it's always nice to see that! The other added bonus of having the party at the park other than the picnic table is that we were able to throw away all of the garbage at the park and fill up that trash can instead of ours!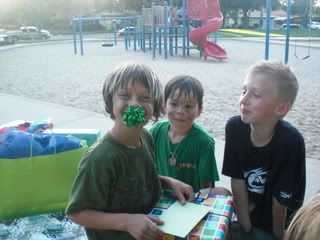 We cleared all the trash and then Wesley came up to me with a request. He did not want the kids to sing Happy Birthday to him. Yes, you read that right - he did NOT want the kids to sing Happy Birthday. I asked him "Why?" and he didn't have an answer but he was adamant that the kids were NOT to sing. So, instead we all yelled "Happy birthday Wesley" like drill sergeants and handed out ice cream cone drumsticks. Wesley does not like cake. He did not want cookies either. He actually wanted mini drumsticks but I could not find them so we "had to have full size" drumsticks. He cracks me up! Then the kids took their ice cream up to the playground equipment and hung out while they ate their cone.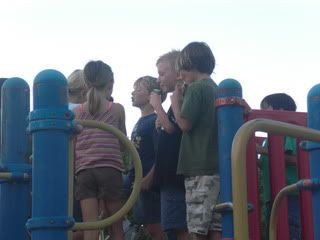 It was really funny. They all just stood there like they were so cool. They just stood there and talked about who knows what. Like they were teenagers. GULP! A glimpse in to the future, a weird Twilight Zone glimpse.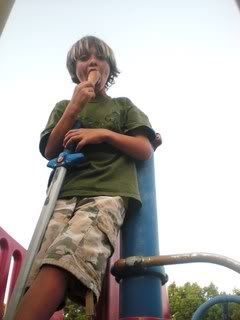 After the ice cream was devoured they were back to savage 2nd graders again and ran a muck all over the park again. Parents came. Favors were handed out. Thank yous shared. Good-byes said. And we took our exhausted but extremely happy birthday boy home.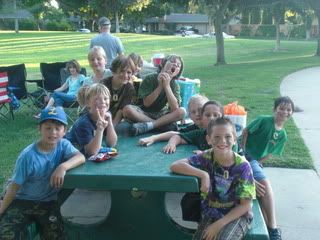 "the crew"